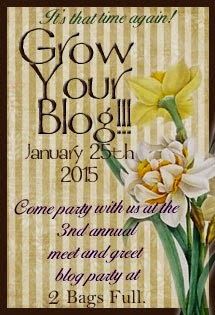 Hello bloggers! Welcome to the
3rd Annual
2015
Grow Your Blog Party
hosted by
Vicki Boster
from
2 Bagsful.
I am new to the party this year...my first time participating. This is a fantastic way to meet and greet other bloggers!
I would like to introduce myself since I am a newbie to this party. My name is Lupe Meter and I primarily love creating jewelry. I have always been crafty and picked up beading many years back but never got into it seriously. It wasn't until I became a volunteer at a local bead museum, that I became acquainted with polymer clay. Soon after, I joined a local guild (
AZPCG
) and that is when my love for polymer clay took off. Shortly after that I started a blog so I could share my love for polymer clay with other bloggers. I have been a polymer clay artist for about 7 years now. I have also been blogging for awhile but life got very busy for me in last few years such that I just didn't have time to blog on a weekly basis. I am finally back to blogging regularly and it feels good! I am hope to make some new friends at this party. Thank you Vicki for giving me the opportunity to share my blog here at this party!
Polymer clay is a great art medium to work with, it is very forgiving and is very versatile. I love that I can create something that is one of a kind.
Polymer clay is great for creating covers on journals.
Polymer clay can be used to cover tins,
in making masks and ornaments.
You can transfer images onto polymer clay
and you can create some beautiful canes
which can be used as veneers in creating
one of a kind jewelry.
You can create wearable vessels like these Inros
which are fun to make.
And these are just a few things that you can make using polymer clay. You can sculpt with it, create vessels and plaques, and cover glass with polymer clay, even "paint" with polymer clay...the possibilities are endless! I have only shown you some of the things that I have created over the years with polymer clay. There is still much to learn in the art medium of polymer clay. It is certainly a learning process for me. New techniques and tutorials are always coming up in the polymer clay community. I don't think I will ever get tired of playing with polymer clay! So you can see why I love to sharing it with others. Thank you for stopping by and taking a look at my blog!
And what's a party without a gift...just for stopping by, I will be giving away this faux shell polymer clay necklace! All you need to do is leave your name, blog and email address in the comment section before February 15th. You don't need to be a follower of mine. I will announce the winner on February 15th!
Thanks again and have a great day!! Enjoy the party!